The History of Electromagnetism
The mathematics that are used today by electrical engineers were originally developed empirically in the 1800's. These equations were originally developed to describe separate electric and magnetic effects that were seen from electric currents flowing in conductors. These equations were developed under the following assumptions:
1. The electric field and magnetic field were unrelated phenomena.
2. The electric and magnetic fields were both primary fields.
3. Any moving electric charge generates a magnetic field from its motion. This includes electrical conduction currents (electric currents in a conductor) and electrical convection currents (moving charged objects, electron beams, proton beams).

The first assumption was proven false
with the publication of
James Clerk Maxwell
's 1873
Treatise on Electricity and Magnetism
in which the interactions of positive and negative charges were shown to be regulated by one force. This publication was able to encompass previous separate field theories (namely electricity and magnetism) to provide a unifying theory of electromagnetism. This unification was done using the mathematical framework of the bi-quaternion. The modern derivation of the equations that unified the magnetic field and electric field is shown below: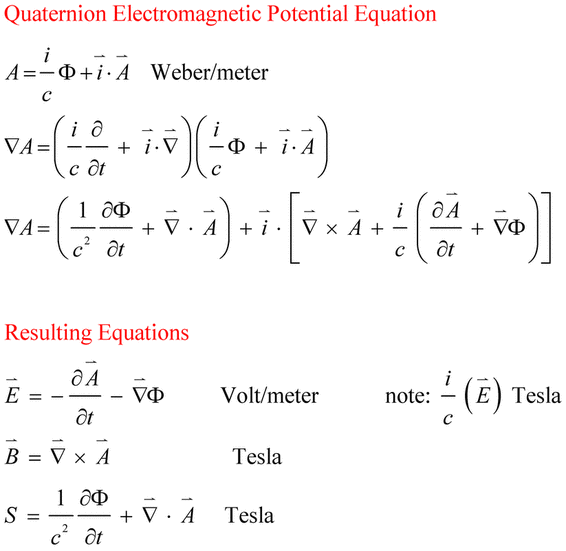 Before James Maxwell publish his paper in 1864 the magnetic field equation and the electric field equation and the resulting equations were considered mathematically separate descriptions of two different forces. When James Maxwell was able to derive both of these equations from his Quaternion Electromagnetic Potential equation it was obvious that the two separate fields must be describing different aspects of the same field.
This derivation did have its problems. The foremost was "What was the third equation describing?" The third equation is a scalar equation with the units of a vector (Tesla) whose effects had not been seen from electric currents in conductors. So this third equation then had its terms rationalized to 0 to give use the Coulomb gauge that is used in electrostatics and the Lorentz gauge. This was done to facilitate an engineers ability in solving electromagnetic problems involving electric conduction currents. The terms in this third equation were never proven to be 0 by any experiment!

---
After the magnetic field and the electric field were unified, assumption number 1 was proven to be false. The source for the electric field was still unknown since the electron wasn't discovered until 1896 by the British physicist
J. J. Thomson
so the assumptions 2 and 3 were assumed to still be valid.
This led to a number of experiments to prove the 3rd assumption that involved rotating charged elements by major scientists. Those include an experiment using astatic magnetic needles in 1876 by H.A. Rowland, at the suggestion of H. Helmholtz, which indicated that electrical convection currents did generate a magnetic field. The experiments were repeated and confirmed by W.C. Röntgen and by F. Himstedt. Later V. Crémieu again repeated them and obtained negative results. They were again very carefully re-conducted by H. Pender and by E.P. Adams. Pender's work showed that electric convection does produce a magnetic effect.
When these experiments are performed using modern magnetometers or magnetic field sensors a number of researchers have reported that they are unable to confirm these results.
Then in 1905 Albert Einstein published his famous paper
"ON THE ELECTRODYNAMICS OF MOVING BODIES"
that showed that both the electric and magnetic fields are part of the same phenomena when viewed from different inertial frames of reference. The source of the magnetic force between wires flowing an electric current was now known to be due to the differences in the apparent electric field intensity from the two different charges in the wire being in two different inertial frames of reference. It was now obvious that only electric conduction currents or electric currents flowing in a material with charges in different inertial frames of references are going to
generate
magnetic forces
that the mathematics describing a magnetic field can be used. The relativistic change in the electric fields from the moving electrons and stationary positive ions, when they are viewed from the others inertial frame of reference, is the primary field. The magnetic force that is seen is the result of the interaction of these relativistic electric field changes of the negative charge carriers (electrons) with the positive static electric charges (protons) in the conductor. This makes the magnetic force dependent on the characteristics of the conductor like the speed of the electric current in the conductor that is different for different materials like copper and graphene. This dependency causes the magnetic field to be a secondary field or pseudo field that is dependent on the characteristics of the conductor and not the primary field that would be independent of these dependencies on the characteristics of the conductor. Electric currents that don't have this interaction between charges in different inertial frames of reference like electron beams or proton beams or moving charged elements or any electrical convection currents are not going to generate a magnetic force on another wire (but will still be affected by a magnetic field). It is also obvious that the positive results to the experiments that were done to prove that a electrical convection currents generate a magnetic field have to be wrong if Einstein's 1905 paper is correct. The positive results that were observed by W.C. Röntgen and by F. Himstedt were just more proof that PhD's shouldn't be doing ground breaking experiments, since they are just going to create experiments that give them the results that they expect to see...

T
he above assumptions 1, 2 and 3 that were assumed to still be valid in the 1800's (when today's mathematical framework was created) are now known to be just a special case that only apply to electrical currents in conductors. This causes the equations being used today to give us invalid results when describing the effects from electrical convection currents or electrically isolated charged objects. This is the reason that the current mathematical framework has to be just a special case to a larger mathematical framework.
Some of the conditions that allow today's electromagnetic equations to work for conduction currents and don't work for electrical convection currents are as follows:
1. There is almost no electric field inside a charged conductor.

2. Charged conductive surfaces allow the negative charge carriers to redistribute themselves to offset any changes to the static electric field seen by the negative charge carriers in the conductor from the effects of relative motion to achieve electrostatic equilibrium.

3. Wires are round and much much longer than they are wide.
4. The current implementation of modern electrical technology is being done next to a conductive sphere that is about 8000 miles in diameter called ground or "Earth".
These conditions are the main reasons that our current mathematical framework works so well for electrical conduction currents. But these dependences also makes our equations unsuitable to describe the effects that we want to exploit to implement propellant-less propulsion.
The first roadblock that we encounter in looking for a set of equations that we can use to describe the changes in the electric fields from moving charged objects, is that we don't have any equations that describe the increase in the electric field from a moving charged object. The closest equation that we can come up with that we can use is: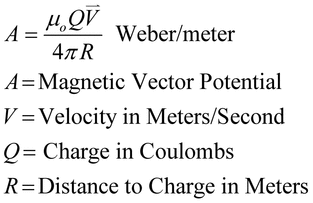 This equation is used to determine a magnetic vector potential that is generated by an electric charge that is moving. This is not going to work to determine the change in the electric field for a moving charged object. But its a good place to start from.